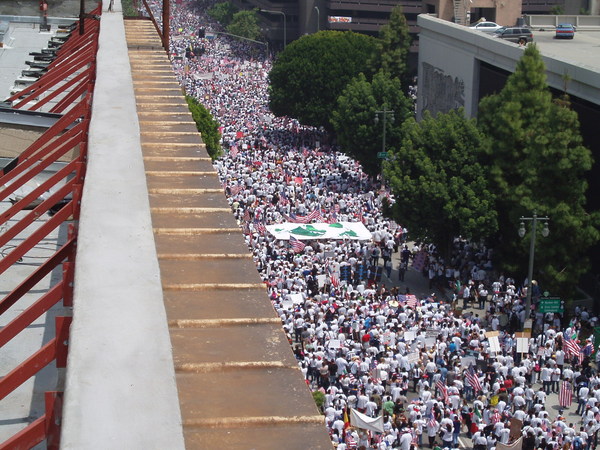 Wow, Wow, Wow, Wow.

I've been busy the last couple of days, and only just had time to find out what happened on May Day. I'm out of town at the moment, and I'm sitting in an internet cafe going through the indymedia protests, looking at photos, and almost crying over how unbelievably amazing the American Mayday immigrant right protests were.

That photo is from San Francisco, and those links each go to a different indymedia sites. You can also find out more information, here, here, here and here.

What really got to me (and made me all emotional) was the solidarity. Immigration is a workers issue, and it doesn't just affect illegal immigrants. The photos from Chicago, which had the biggest protests, showed that people understood that. As a history geek, I was particularly excited the Chicago. May day marks the campaign for the 8 hour day, and the Haymarket riots, and the state murder that followed. The people who fought for the eight hour day were mostly immigrants and those organising now are continuing that fight.

This photo is from Chicago, near Haymarket:



PS I stole the title from a banner; I don't speak spanish. I hope it's not too hideously wrong.